Welcome to the Scrap Factory Brick People Blog Hop!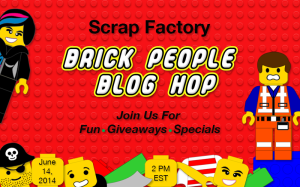 You're sure to find some inspiration from the amazing projects created by our Design Team and Guests.
I used the brick people in this layout of my son and his two close friends. I tried to recreated each brick person to capture each kid's individual personality. I first thought of titling this page "Building Blocks of Friendship" and then I smiled because these kids are always goofing and laughing and thought a more appropriate title would be "Blockhead Friends." lol! I stayed conservative and went with "Best Buds."
:)
Now, how about some blog hop prizes?
Susan of
SusanBlueRobot
is offering the winner their choice of a Scrap Factory Expansion Pack by SusanBlueRobot. Enter on her
blog
.
What you need to do to be eligible for these awesome prizes?
1. Leave some love on each of the blogs in the hop.
2. Become a follower of each of the blogs.
For an extra chance to win, stop by the
ScrappyDewCreations Facebook
page and click the "Like" button. You'll be glad you did! June 14th-15th there will be Games, Giveaways and awesome Coupon Codes!!
Winners will be selected on Tuesday, June 17th, 2014.
Your next stop on the hop is Angie.
Blog hop lineup:
I hope you enjoyed your stop on the Brick People blog hop. Be sure to visit each blog, the team have amazing projects to share with you today!!
God Bless!